Welcome to the VOLCANO'09 (Volume Change Analysis of Nodules) Measurement Challenge website. The VOLCANO competition is a part of the Second International Workshop on Pulmonary Image Analysis held in conjunction with MICCAI 2009. The goal of this study is to compare the outcomes of various algorithms measuring the change in volume of pulmonary nodules from CT scans using a common dataset and performance evaluation method. The data for this competition is prepared for inclusion in the Public Lung Database To Address Drug Response and is provided by the Weill Medical College of Cornell University. This dataset consists of pairs of lung CT scans containing 53 lesions. Any team, either from academia or industry, may join the study.
This study is now closed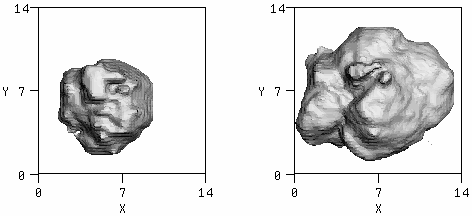 In order to participate:
Register a team and accept the challenge rules
Download the image dataset containing training and testing data
Sunbmit the results produced by your algorithm.
Submit a description of the method used to create the results
You are also strongly encouraged to submit a paper to the Second International Workshop on Pulmonary Image Analysis. After the results are submitted, they will be evaluated and presented during the workshop. More information on the submission and evaluation procedures is available in the Information section of the website.
For more information, please refer to the challenge details and F.A.Q. pages, or contact
---
Important dates:
| | |
| --- | --- |
| March 27, 2009 -&nbsp | registration is opened and image data is available for download |
| June 24, 2009 -&nbsp | last day when results may be submitted for the first round |
| September 14, 2009 -&nbsp | results are available for viewing |
| September 20-24, 2009 -&nbsp | MICCAI 2009 |
| November 2, 2009 -&nbsp | final paper will be sent out for review |
---
The web-site was last updated on April 21, 2009.